Rev. Elizabeth Herron is an ordained minister in the interfaith Creation Spirituality tradition and has a pastoral counseling practice in the El Morro area in which she integrates psychology and spirituality. She assists her clients in listening deeply to the soul's calling through mental health symptoms and finding practical, creative and spiritual solutions.
In addition to being a psychology professor at the University of New Mexico, she also leads women's drumming circles and is an active member of the El Morro Karida buddhist sangha. She is the author of a book on feminine psychology titled, Fierce Beauty, Feminine Fire and a book of poetry, Poetry for the Ear of God; Healing Trauma Through the Music of Words.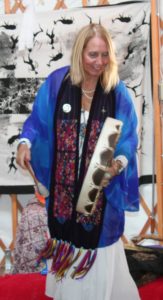 Counseling Specialties include:
Emotional Trauma Recovery
Dream Work
Depth/Jungian Psychology
Spiritual Direction
Conscious Aging and Dying
Developing Creative Passion
Mindfulness and Centering Practice
In addition to her counseling practice, Elizabeth is also available to conduct ceremonies including marriages, funerals, home blessings, and more.
Contact info:
Rev. Elizabeth Herron
505-495-9885
Fees: Sliding scale ranging from $40-$80 for a session.